Lowe's Advantage Card :
Willing to add the Lowe's Advantage Card to your fleet of cards? This might be the most tempting thing for you. Yet you need to analyze whether the credit card is suitable for you. As a bad credit card could put you to a huge financial rage and could spoil your credit too. In this post, we would provide you with a detailed guideline to the Lowe's Advantage Credit Card.
After having a glance at the Lowe's Advantage Credit Card benefits and rate and fee you could decide whether the card is good for your wallet. Once you find the card handy you could fill out the application form at the website of the credit card company.
Benefits of the Lowe's Credit Card
The Lowe's Credit Card is great for those who are on a home improvement project or require to recently shop for home improvement items at the Lowe's store.

Lowe's Credit Card offers an exceptional discount on 5% on using it for purchases in-store.

You get a 2% rate of cashback cards. However, Lowe's Credit Card has a remarkable edge rate.

It is a good choice for anyone who loves making home renovations.

The credit card allows you to make purchases and at the same time earn discounts.

Ones who are in search of the no annual fee credit card can find the Lowes Credit Card quite functional. However, it is not good for business owners and contractors.
Lowe's Credit Card Rate and Fee
Annual fee of the credit card is $0

APR rate is 26.99%

No interest is charged if you pay in full within 6 months of purchase.

There are project financing benefits for 36 fixed monthly payment at an APR of 3.99%

A discount rate is 3% for eligible purchases.
Requirements for the Credit Card
For application, you need to be a resident of the U.S.

You should be at least 18 years of age.

Have a valid Social Security Number.

Minimum has a good credit score.
How to Apply for the Lowe's Advantage Credit Card
Ones who are willing to apply for the Lowe's Advantage Credit Card need to open the application page. www.lowes.com/l/Credit/consumer-credit-center

Wait for the website to open and there will be the 'Apply Now' button at the right of the screen.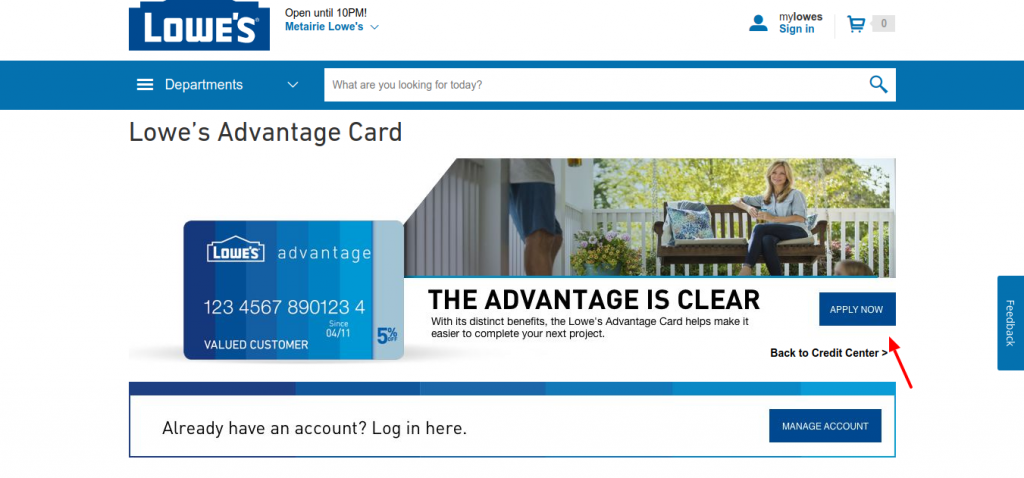 Click on it and an application page will open which features a form.

Enter the following information in order to complete the procedure:
First name

Last name

Street address

Zipcode

City & state

Primarily phone

Email address

Confirm email address

SSN/ITIN

Date of Birth

Annual net income

Associate ID
Click 'Continue' and it will direct you to the next webpage. Now you can read and agree to the terms and conditions and submit the application form.
Lowe's Advantage Credit Card Check Order Status
Anyone willing to check order status needs to open the cardmember login page the Lowe's Advantage credit card.

At the bottom of the website, one needs to look for the check order status link.

Click on the link and it will direct you to the check order status page.

For checking order status choose order type from the drop-down menu, enter email address and confirmation or order number.
How to Activate Lowe's Credit Card
Did the Lowe's Credit Card just drop in your mailbox? Good news. But you need to activate your credit card in order to use it for purchases.

The credit card company lets you activate a new card by logging in.

Once logged in you can activate your credit card at the account management console.
Also Read : Application Process For Lake Michigan Prime Visa Card Online
Lowes Credit Card Customer Service
To get in touch with the customer service team you need to call on 1-800-445-6937.
Conclusion
At the bottom line, the Lowe's Credit Card could be a good one for anyone who has been usually shopping at the Lowes home improvement stores. If you love renovating your home then you could find the credit card great.
Reference :
www.lowes.com/l/Credit/consumer-credit-center
---
---